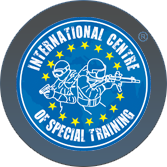 STRENGTH AND HONOUR
About Us

International Centre of Special Training is an international training and security company based in the United Kingdom. Its priority objective is to provide services to the highest level. Our company is an effect of knowledge, experience and skills gained during the years of service in the polish, british and french Special Forces, such as: Grom, Formoza, 1-st Special Forces Regiment, Special Air Service, 1-st Parachute Regiment and 2 REP.



Living in the time of increasing crime, violence and terrorist threats our international team of instructors worked out the procedures and standards enabling to share some of the skills at the civil training market.



In our training offer you will find packages not only for the professionals but also for people who want to enter the extraordinary world of "special's". The wide range of trainings will fully satisfy even the most demanding clients.



Welcome to the trainings in the field of maritime security, close protection, paramedics, firearms training, which are our priority.

Our main headquarter is in the United Kingdom as this is where the idea of creating the ICOST originated. Our training centre fully allowing us to spread our wings is based in Poland. This Central European country seems to be the best optimal solution taking into account transport, logistics and didactic aspect. We would like to welcome everyone to take this unique opportunity which is the training in ICOST.